| | |
| --- | --- |
| English | Español |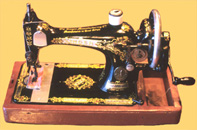 Welcome to my new web site. I thank the colleagues, whose sites taught me many things , and made me to become keen on antique sewing machines.
Here youíll find 34 examples of my collection with some comments , as well as some miniature and miscellaneous items. As far as I know, this is the first Spanish web site about antique SM. Excuse me for my limited English!
Iíll be glad and honoured if I receive any suggestions, corrections of probable mistakes, and information from all you!
Isabel García Jiménez
Madrid

THIS SITE CONTAINS 183 PICTURES ABOUT 34 FULL SIZED SEWING MACHINES, AND OTHER ITEMS, IN 47 SEPARATED PAGES.
Last Updated 25-05-2000
All images copyright 1999 Isabel García Jiménez

Webmaster: Epalacas
Disclaimer: Sites are listed for information olny, and it does not imply recommendation for any commercial services.
This site is a non commercial site. No values are given.